How to Make Money Online in Cameroon [14 legit ways]
PHCS
How to Make Money Online in Cameroon [14 legit ways]
Making money online in Cameroon isn't as hard as it seems. Starting from 2020 during the outbreak of Covid-19, making money online became the new era of life worldwide, especially in Cameroon.
From my personal experience with others who have successfully made money online, I have decided to compile the 14 legit ways every Cameroonian can also make money online in the comfort of their home, just with a phone, laptop and internet connection.
I would recommend you read this article more than once and share it with your friends so that together, you all will build a successful team and work successfully towards making money online.
These ideas are not new; we all know them but we just don't imagine or thought we could make a fortune or a living from doing these 14 legit business.
#1. Online English tutor
This is a hidden secret many Cameroonians aren't aware of. Many University students have good vocabulary and grammar that are making a lot of money online in Cameroon.
So what are they doing? The answer is very simple; they are making money online by teaching English. You don't need to have a university degree in English before you can start making money online in Cameroon as an English Tutor.
I have seen many students, individuals who study accounting, geography, and educational psychology making money online from the comfort of their homes.
Many online platforms provide users worldwide the opportunity to become online English tutors. Many of these platforms have been listed on the link below.
Read More: 10 Best websites for teaching English online
However, the major websites of many students I have come across teaching English online were NatuveCamp, Camply, Preply and ENGOO.
On average, many Cameroonian earn an average amount of 100,000XAF to 250,000XAF a month teaching English online.
#2. CV and Cover letter writing
You can also make money online in Cameroon by providing CV and Cover letter writing services to others. Many unemployed graduates are searching for career opportunities but have little know-how on how to design a professional CV (resume) or cover letter (Job letter).
Many need these basic services that we often ignore and do for free. If you have a good mastery of how to write a powerful motivational letter or have the skills to design a CV, then it's time you start letting others know and charging them for these services.
Build a basic and simple website indicating you offer such services or even a Facebook page for a start.
Advertise your website or social media page and start making money. For a start, you can start by charging a small sum of 5,000XAF per each cover letter or CV you design. As time goes by when you are well known, then you can increase your prices to 7,500XAF per CV and cover letter.
Individuals who have ventured into these types of online businesses in Cameroon are making a sum of 90,000XAF to 150,000XAF a month.  If, you don't know what a professional CV look like check on the link below for a sample CV.
Check Out: Sample CV for A Job Application
#3. Affiliate marketing
Affiliate marketing has become very popular in Cameroon since 2015. It's one of the ways you can make money online in Cameroon from the comfort of your home.
But what is affiliate marketing all about? Affiliate marketing is the process of marketing a product or services of a particular company online to users through your affiliate link and getting paid a commission when users buy through your affiliate link.
So, if you are someone with a big social media presence or an influencer, then affiliate marketing is just a perfect income source for you.
With a simple Facebook page or website, you are good to go with affiliate marketing.
The only issue many Cameroonian faces with affiliate programs is the form of payment where most companies turn to pay through papal and other wire transfer. But this should be a barrier, as you can contact friends or family members aboard to her create a papal account for you and then link it to your local bank here in Cameroon.
Most popular affiliate marketing programs online include Amazon affiliate programs, Udemy affiliate programs, eBay affiliate programs, ClickBank etc.
Many affiliate marketers I have come across in Cameroon make an average amount of 80,000XAF to 350,000XAF a month online.
#4. Blogging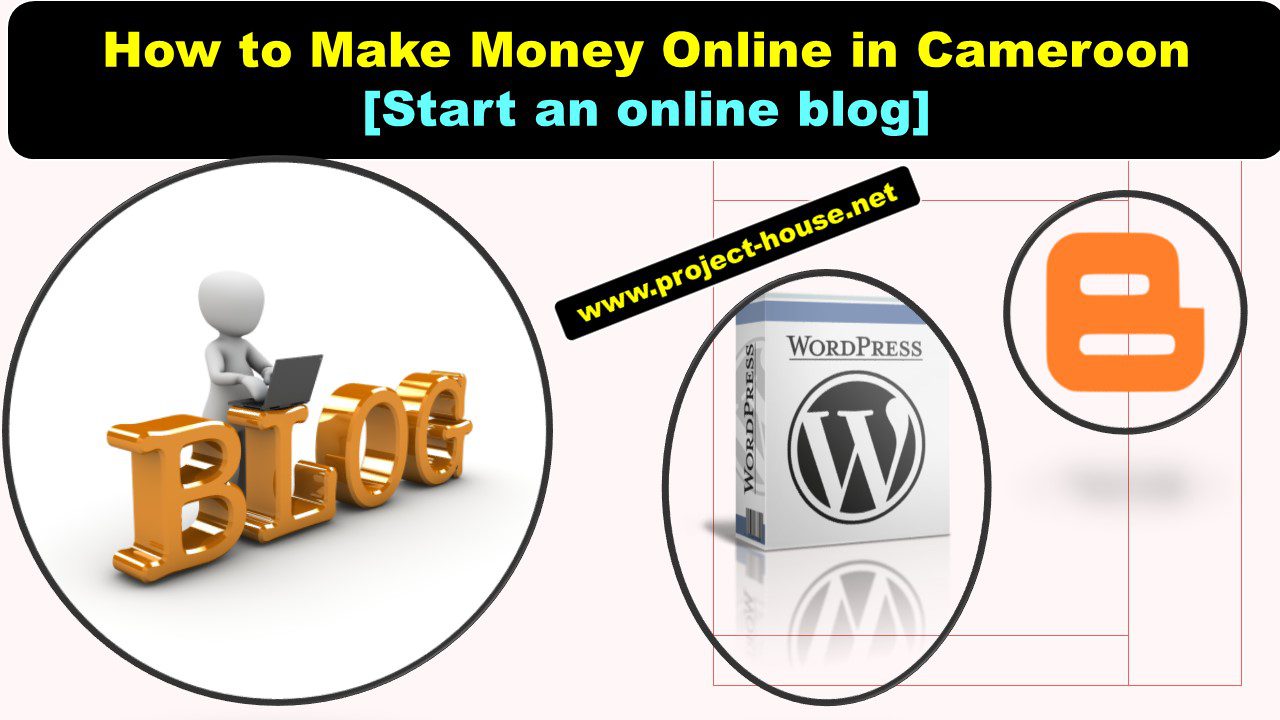 Become a blogger if you want to make money online in Cameroon. Blogging is one of the most passive forms of income. It's like an investment that you can pass it on to your wife, kids or family members as an inheritance after you die.
Truth be told, there are very few bloggers in Cameroon, this sector of business is very limited and few who happen to exit are concentrated within the media and news sector (niche).
We have very few bloggers in areas such as real estate, e-commerce, education, insurance, career, relationship etc. in Cameroon.
Note that blogging isn't a get-rich-quick form of making money online in Cameroon, but is highly rewarding after the first 6-8 months of consistent work.
There are two major platforms you can start blogging such as WordPress theme and Blogger theme. If you are a beginner and have no income of your own, you can build your website on a blogger theme for free. But if you need a professional blogging site, then with a sum of 40,000XAF you can get a website built for you. [WhatsApp Us].
Popular blogs in Cameroon in the educational niche include:
Popular blogs in SEO and technology in Cameroon include:
Popular news blogs in Cameroon include:
The key to success in making money online as a blogger is to be consistent with your blog and also to be able to write quality content that satisfied your audience.
On average, high-income bloggers earn a monthly income of 90,000XAF to 600,000XAF a month.
   Read: How to Start a Blog Business in Cameroon and Make Money
#5. Real estate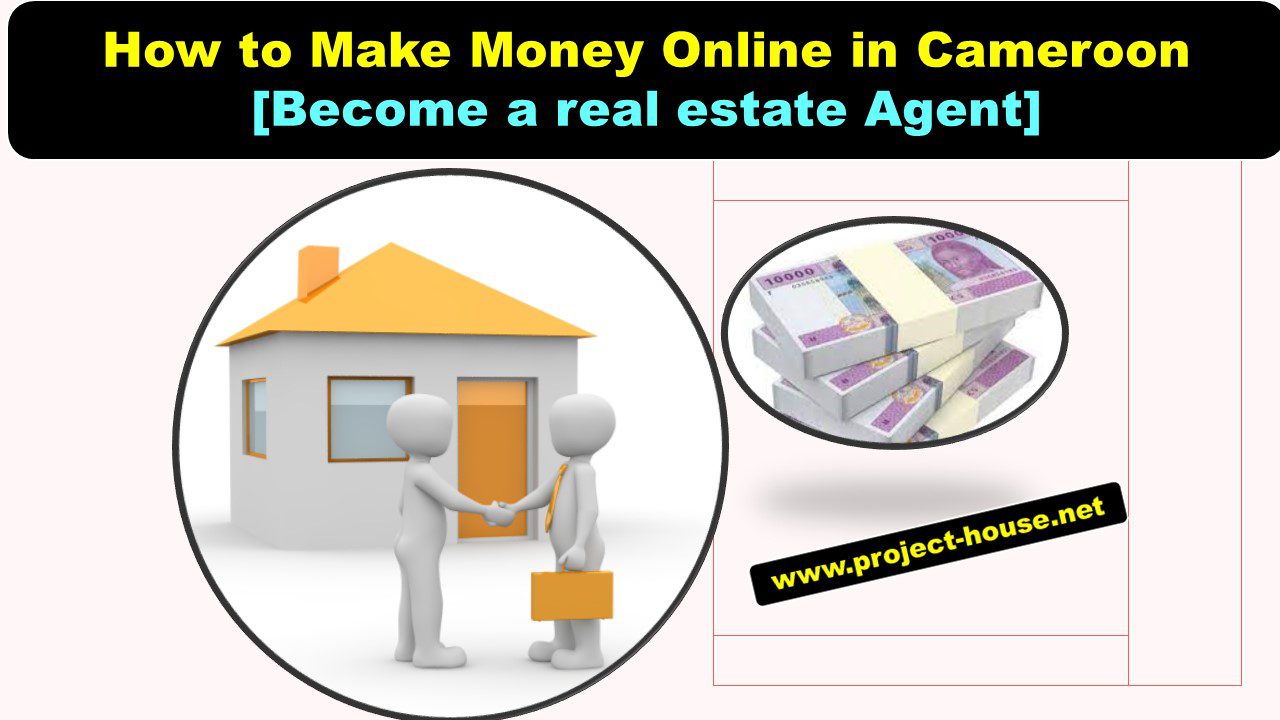 You can also make money online in Cameroon through the real estate business. This type of business is best for individuals who live in big towns and cities such as Buea, Limbe, Douala, Bamenda, etc. or just in any town that has a public university.
So how do you make money online as a real estate agent? It's very simple, create a Facebook page or basic website.
Visits landlords and property owners, take pictures of their various properties such as rooms, studios, and apartments, land, etc.
Upload the houses on your website or Facebook page and tag prices and the location and properties of each house. If someone is looking for a house and likes the one you have posted online, he/she can then contact you to take show them the house.
You can then charge a token of 5000XAF for the visitation fee and a sum of 50% of half of the rent for a month if they decide to pay for the house.
This also applies to those real estate agents who specialize in selling properties such as houses and land. You take a picture of land that is for sale by the owner and published it online when an interested buyer wants to buy the land, he/she contacts you then you take them to the owner of the land, after a successful deal between the owner and the buyer, you will then get a commission for the referral.
It's estimated that real estate agents in Cameroon make an average sum of 100,000XAF to 500,000XAF a month, depending on the month and season when houses are in high demand.
Read More: How to start a real estate business in Cameroon
#6. Translation services
If, you are someone who is a fluent speaker of more than one language then, offering translation services online is one way you can make money online in Cameroon.
You can translate from English to French and from French to English, Similarly, you can also translate from English or French to German or Latin depending on your understanding of the languages.
Translation services are a very highly demanding career online.
Nothing today works without a social media presence, so to increase your visibility online to be known as a translator, then it's advisable to create a Facebook page.
You can also create an account on online platforms such as OneHourTranslation or Fiverr.
I have friends that offer these services online and make an estimated income of about 150,000XAF to 180,000XAF a month in Cameroon.
#7. Content writing/ Copyright
Writing content for others is one way you can make money online in Cameroon. Copyright required just a laptop, an internet connection, and your phone.
You can provide copyrights to websites, bloggers, or just anyone or institution that needs content.
Copyrights do anything from writing video scripts, social media posts, blogs, articles, sale pages for businesses, landing pages of websites, etc.
To be successful at copywriting, take online courses on copywriting on Udemy, Futurelearn, or just any platform you are much more familiar with.
Connect with those that are already successful in the copyright business.
Content writers earn on average 100,000XAF to 250,000XAF a month.
Read: How to Make Money On WhatsApp in Cameroon
#8. Design websites
Make money online in Cameroon by building websites for others. Cameroon aimed to become an emerging nation by 2035, this implies that almost all businesses would require an online presence.
You can build websites for NGOs, schools, hospitals, restraints, snack bars, etc. or just any type of business.
There are very few individuals involved in this web-building industry in Cameroon, Take advantage and build great websites for people. You will not only make money by building websites for these businesses but also by providing SEO and maintenance services.
So, you can reach out to many businesses and indicate the importance of them having a website. There is a high possibility that 6/10 of every business you make contact with would likely say yes.
Web building can earn you a monthly income of 150,000XAF to 250,000XAF a month.
#9. Sell cosmetic products online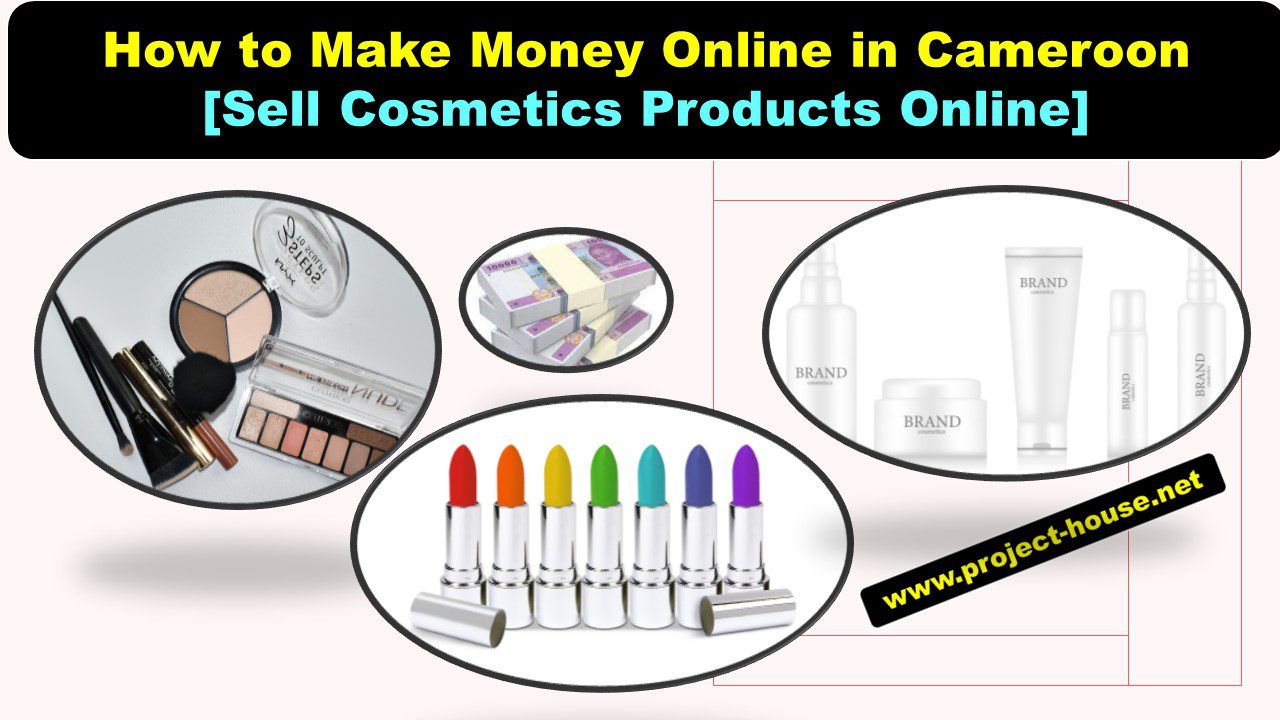 Many youths in Cameroon often think the only way one can make money via provision is by renting a physical space. No this isn't true anymore. You can make lots of money online if you are engaged in buying and selling cosmetics products online.
If you have no money to create a website, then make good use of using a Facebook page and social media groups.
So how do you make money selling cosmetics products online? It's very simple, create a social media group on WhatsApp, and join other WhatsApp groups and Facebook groups.
Pick a few cosmetics items that you have used and have good knowledge about them. Share online regularly and you will get women in boxing you for details.
Note, do not sell products that you have never used or have good knowledge about.
#10. YouTube Channel
We have very few influencers in Cameroon. This means there is an open market and source of income to become a YouTuber in Cameroon.
We cannot without any doubt about how much YouTubers earn a month, from the statistics we observed from YouTubers from Nigeria and other countries.
So, what can you do online as a YouTuber or best say vbloger? You can start comedy skits making, relationship coaching, travel coaching, educational coach, or just daily news events happening around Cameroon or any part of the world.
#11. Sell Second Handed Products (Cars, chairs, TVs, Phones etc).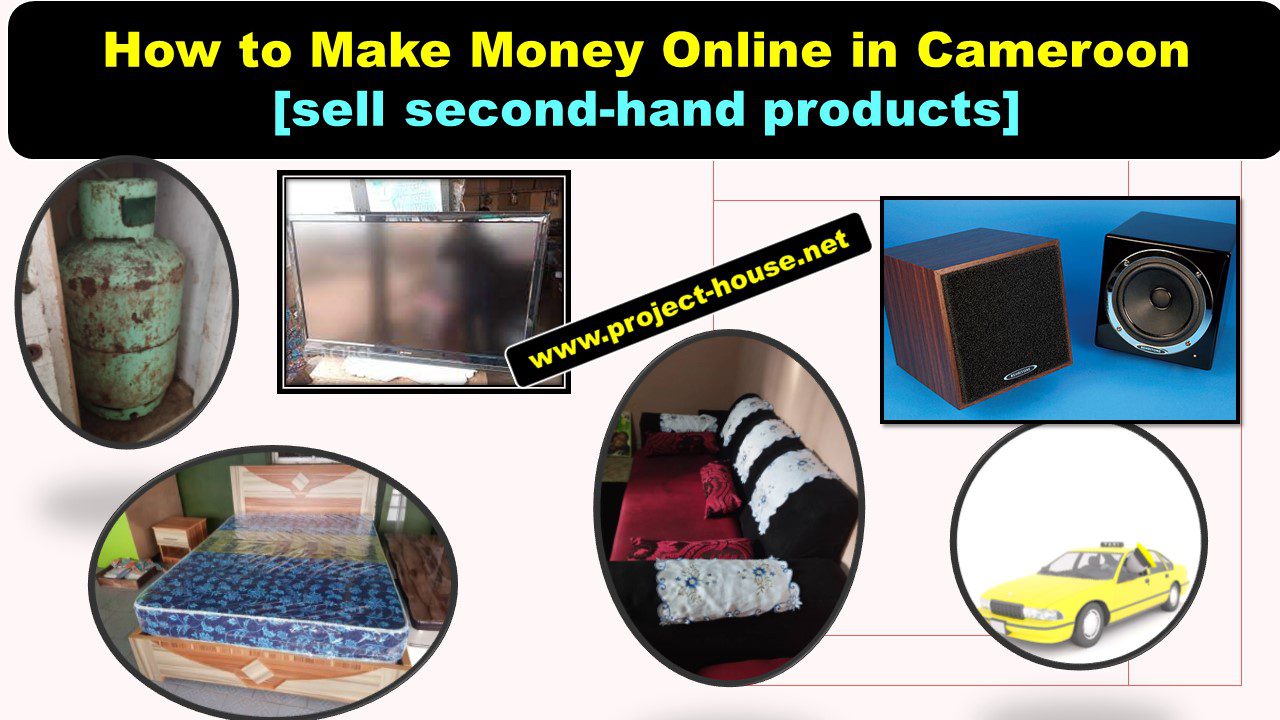 Selling second-handed or used products is a very profitable way to make money online from Cameroon. You can sell anything as long as it has value to users. Sell second-hand or used cars, phones, chairs, TVs, kitchen items, fridges, gas bottles etc.
You don't need to go to a marketplace or rent a shop to do this type of business. Just join social media groups and pages such as Facebook and WhatsApp etc. advertise what you have and get customers hitting you on WhatsApp asking you how much.
To make it even more legit, spend some amount of money and create a website to market your products.
Selling second-hand or used products has helped many students out of unemployment and poverty homes.
#12. Video Editing
Video editing is a very rare skill that many Cameroonians do have. However, it's one of the most paying skills online. Provide video editing services to users, be they YouTubers or just anyone who wants to have a well-edited video for their business advertisements. Of course, video editing works alone with graphic designing, thus it's good to have a blend of these two skills and learn to start making lots of money online in the comfort of your home.
Edit videos for celebrities, artists, or just anyone who wants a good birthday video for their Tiktok or Instagram.
Video editors earn on average 150,000XAF to 400,000XAF a month in Cameroon.
#13. SEO services
Search Engine Optimization (SEO) in a simple sense is anything you can do to a website that makes its content rank on google's first page so that users can easily see it when they search online.
SEO is the future and anyone who ventures into this as a career will make a lot of money. The ability for you to search for how to make money online in Cameroon and ended up here on this platform instead of another website is SEO. SEO is broad but is just trying to explain it in simple terms for everyone to understand.
If you can write content or articles for websites or institutions and these articles appear on search engines' first page (google, yahoo etc) then you are good to go into SEO services.



Most SEO individuals or professionals in Cameroon can make an average of 180,000XAF to 400,000XAF a month working online from home.
#14. Trade Cryptocurrency
Highly paying carrier that you can work at home just with your smartphone and computer. Since 2018 when cryptocurrencies were introduced in Cameroon, only a few persons have taken interest in this type of business.
From Bitcoin, Ethereum, dogecoin, litecoin, etc. learn to invest in these coins. There are two ways to make money online with cryptocurrencies.
One way is for long terms investors, people who trade cryptocurrencies for a long term of 1 year upward. That is they buy when prices are low and hold for a very long period such as 12 months upward and only sell when they see a massive increase in prices.
The second way to trade cryptocurrencies is by learning the fundamentals of forex and applying them to crypto, that is you buy and sell on and daily or weekly basis on giant platforms such as Binance, eToro, Coinbase, etc.
Check Out: Top 13 Highest Paying Jobs In Cameroon
Final Remarks
Making money online on your own requires a lot of hard work and patience. It also necessitates strategic thinking. Begin right away and learn as you go.
Learn from your mistakes and provide consistently high-quality service to your target audience and advertisers.
If you have any questions or more suggestions on how to make money online in Cameroon, please do us good by dropping your thoughts and ideas in the comment section below.
Good luck and have fun!