11 Best Construction companies in Cameroon
PHCS
11 Best Construction Companies in Cameroon
Since 2015, there have been a rapid rise in construction in Cameroon. From real estate construction (Building), to road constructions, bridges, and many other public services. The is also a high demand in construction by the private sector in areas such as education health, and tourism.
There are more than 100+ different construction companies in Cameroon spread across the major cities such as Limbe, Douala, Buea, Yaoundé, Kumba, Bamenda etc.
Based on where you live and what you need, distance is not a barrier in getting your construction work done. Here are 11 best constructions companies you can put your trust in, in order to to get your works done with high quality and good services.
1). Charis Electric Co Ltd (Bamenda)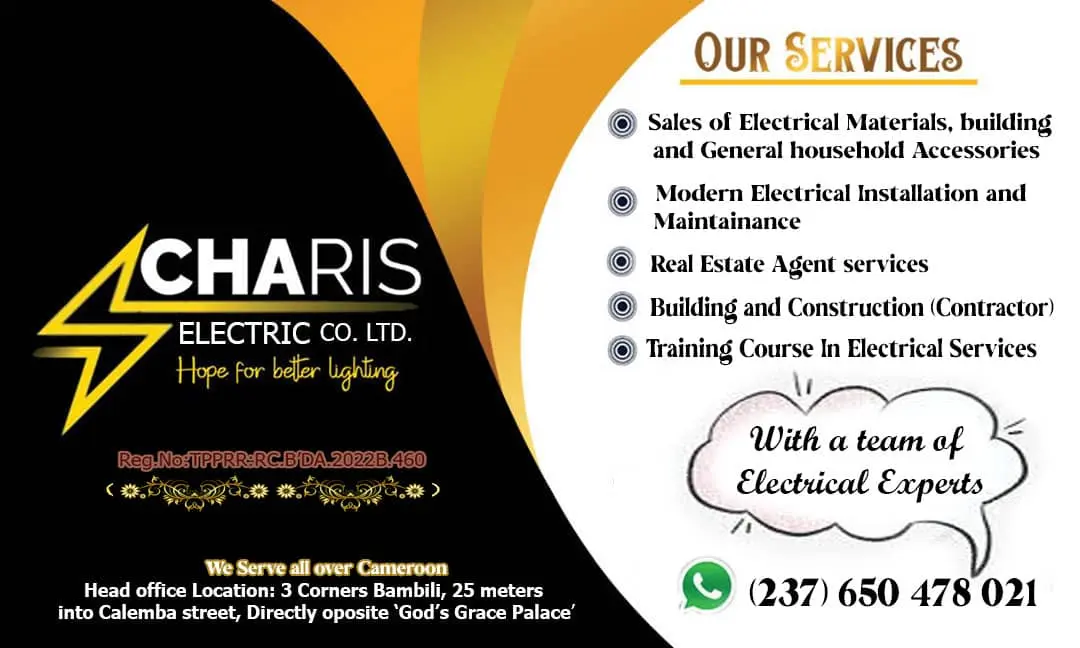 Charis Electric in the past few years has had its footprint in the Construction industry as they have incorporated the most recent technological ideas in today's construction industry, providing its clients with top-notch lighting for their buildings.
Charis Electric company ltd is involved in the supply of electrical materials and All that has to do with electrical installations in all types of buildings such as Hotels, stadiums, shopping malls, private Residence, conference halls, stage lighting, CCTV Security Camera systems, Automated lightings, etc. Their head office is based in Bamenda- Cameroon and render services everywhere they are needed.
Contact them on WhatsApp or calls through the number +237650478021
2). George & Jerry Construction Company Ltd (Buea)
When it comes toward construction services in Cameroon, George and Jerry Construction Ltd are one of the best. They are located in Bomaka Buea.
G&J Co.Ltd was first establish in 2004 and has well trained professionals who have over more than 20 years of work experiences.
They specialize in construction works such as bridges construction, building projects, electrical works, water works, telecommunication works, road constructions, road maintenance and the sales and supply of construction materials.
George & Jerry Construction Company Ltd works in close partnership and collaborations with NGOs, Ministry of Public works, CAMTEL, Local councils, ENEO, and international organizations.
You can contact G&J Co.Ltd. at (+237) 233324104 / (+237) 699849853
3). Bundes Construction (BUCRES), [Limbe]
Bundes Construction specializes in construction services such as road constructions, housing construction, project management and innovative solutions. BUCRES also proud to be made up of well trained, experience and qualify staffs who work day-by-day to bring projects to realizations.
You can reach them through 6 76 29 11 11
4). BRIC S.A.
BRIC S.A. is a building and roofing construction company in Cameroon. BRIC S.A. is also involved in interior decoration and renovation in Cameroon.
BRIC S.A. also provides the production and sales of hollow concrete blocks, interlocking pavers, rectangular pavers, clover pavers, Roman tiles, shore tiles, fronton corner tiles, green corner tiles, and ridge tiles.
You can get in touch with BRIC S.A. at +237 691 93 92 97
Read: How to start a real estate business in Cameroon
5). Smart Building Sarl (Douala)
Another well-established construction company in Cameroon is the Smart Building Sarl. The construction company is in charge of residential real estate construction, hotel construction, office space construction, hospitals and any unique building structure.
Smart Building Sarl also provides designing services such as 3D AND 4D modeling. No matter how small your land is, Smart Building Sarl will always provide you with the best and most innovative building structure that will satisfy your desire.
You can contact Smart Building Sarl at 6 20 11 19 51
6)  Derick Constructions & Real Estate Ltd (Limbe & Douala).
Our next on the list of construction companies in Cameroon is Derick Constructions & Real Estate Ltd. This company is more focused on real estate management.
Derick Constructions & Real Estate Ltd offers building contracts and often employs builders to work with. Thus, if you are a professional builder, it's advisable you contact the real estate company for any job vacancies. Major vacancies include painters, builders, electricians, and architects.
It's located in Limbe and Douala and you can easily get to them through +237698990728.
7). The Bros Enterprise (Limbe)
The Bros Enterprise provides both IT and construction services in Cameroon. It's located in Limbe Cameroon. The Bros Enterprise has a well-trained and professional team made up of Architects, Engineers, Technicians, Accountants & IT Specialists who put their best into every construction project that they come across.
Construction of family and residential properties, guest houses, shopping malls, seaports and football stadiums are just some of the few areas you can hire the Bros Enterprises.
8). CAMBUILD-BTP (Douala)
One of the leading player in the construction industry in Cameroon is CAMBUILD-BTP.
Its involves in the provision of many construction works and services such as rental of heavy equipment, the production and sales of concrete construction blocks, buildings and public works.
CAMBUILD-BTP came into operation in 1995 and have grown to the production capacity of making 4000+ blocks a day and having over 300+ employees.
You can get in touch with them through +237 658 24 69 11
Read: How to start an Interior Painting Business
9). INTEGC (Yaoundé)
INTEGC located in Yaounde is one of the best construction companies in Cameroon. Its in charge of services such as building construction, water and energy construction, hydro-agricultural infrastructure, roads constructions, town planning, and work of art.



INTEGC contact number is +237 699 92 48 95
 Read: How to Start a successful Small Business in Cameroon
10). TB Construction Limited (Buea)
Similar to other construction companies in Cameroon, TB Construction Ltd is more focus on the construction of residential building, commercial building, institutional, specialized industrial construction, infrastructure and heavy construction.
Their contact details include: 6 71 28 18 84 and 6 82 70 95 09
11). Sky Access International (Rope Access Cameroon) [Douala]
Sky Access International render several services such as painting, roofing, window cleaning services, boiler maker, piping, sand blasting, welding, NDT inspection, maintenance services. Etc.  
Contact Details: 6 79 91 67 53
Conclusion
There are certain benefits enjoy when you hire a construction company to render your services. They complete projects on time, they make the projects painless, they help you work within a budget and most importantly, they don't compromise on quality.
If you have great skills in construction such as painting, architect, designing, the above listed construction companies in Cameroon will also help you secure a good job.
If, you like this article, please share to your friends and family, if you have any contributions or questions, do not hesitate to drop your thoughts on the comment section below.