Top 10 Best Beaches In Cameroon [2024]
PHCS
We bring you the Most Beautiful Top 10 Beaches in Cameroon for holidays, vacations, and water sport.
Most Beautiful Sea beaches are exotic, Romantic, and serene. Our list is full of the most beautiful sea beaches in Cameroon which is one of the best production of nature, where Sun, Sand, and Sea meet up to commend their adoration.
A place to feel flexibility, unwind and appreciate each snapshot of life.
These fascinating and exquisite beaches are best for travelers. Cooking styles of the waterfront zone are one of the best nourishments awesome, has an extremely rich culture as far as shorelines, regular magnificence, and scenes.
In case you're arranging a getaway in the future, plan your visit to around one of these Cameroon Beach shorelines.
Cameroon is a country in Central Africa. It is a bilingual country with French and English spoken as official languages, including several other native languages spoken in the different tribes and ethnic groups.
Cameroon has an extensive coastline and can boast of as many beaches as possible, which serve as good touristic sites, camping sites, picnics, hiking, surfing including other fun activities.
Many people around the world visit Cameroon to enjoy the clean shorelines and the relaxing atmosphere, especially in the Dry season.
The beaches are not only good for the refreshing sea breeze but also for the delicious grilled sea fish of different species and sizes which is very nourishing, keeps you going, and gives you a chance to enjoy quality time with family and peers.
Amongst the many beaches in Cameroon, we have shortlisted the 10 best beaches people regularly visit and find interesting.
Top 10 Best Beaches In Cameroon 2021
Kribi is a beach resort and seaport located at the mouth of the Kienke River in the Southern part of Cameroon. It lies at the edge of the tropical rainforest zone, on the Gulf of Guinea of the Atlantic Ocean. It is known for its clean sandy beaches and crystal clear water. It is a good place with beautiful hotels, restaurants and attractive overviews.
Related: 
#2. Campo beach
Campo beach is located in the South Region of Cameroon. It is a mixture of history and charm.
This village impresses most people thanks to its picturesque nature and its history of being a former German military base.
Campo beach is locally termed 'mini Cameroon' because we find many from all 10 regions of Cameroon and other countries in West Africa.
When it rains in the morning, it's another phenomenon, since the sea becomes invisible because of the foggy atmosphere and good feeling of being in the clouds above. 500m from Equatorial Guinea, Campo beach plays the role of a commercial center to welcome Cameroonians and Equatorial-Guineans.
#3. Seme beach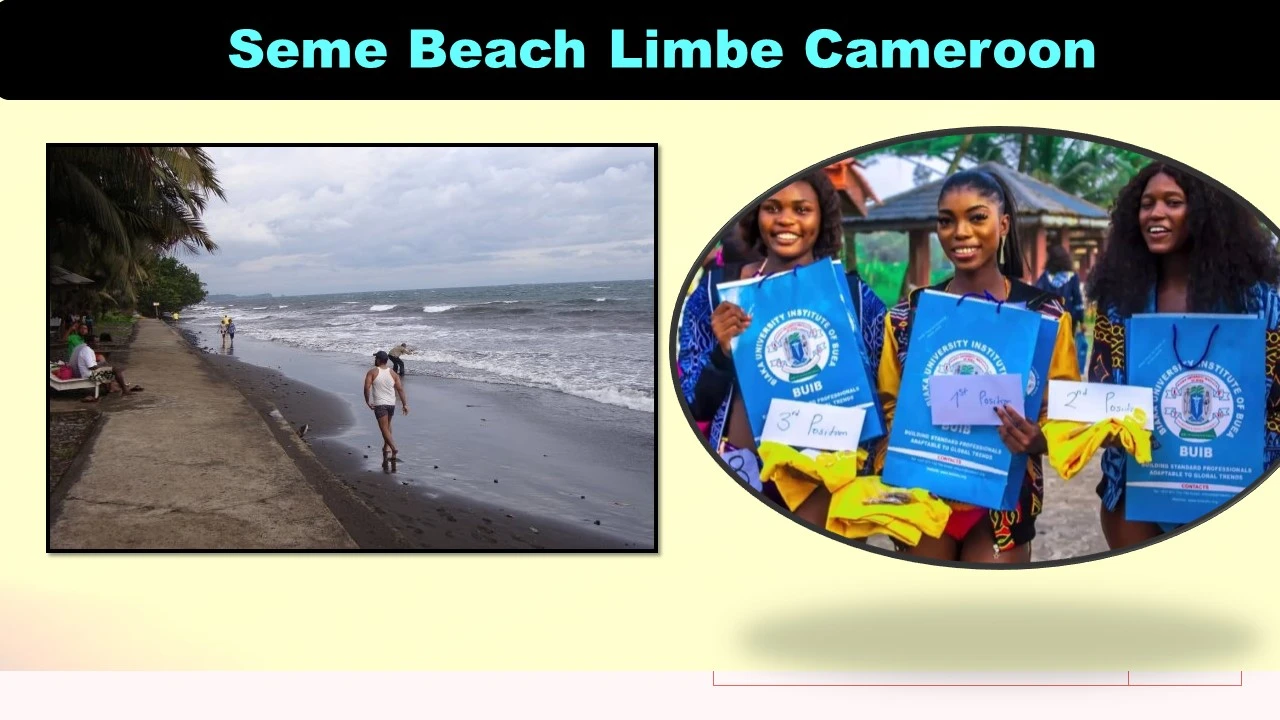 Seme beach is a water paradise found on the edge of the ocean and a river, with a beautiful beach resort for a pleasurable moment with loved ones.
It is found at Mile 11 Route D Idenau, Limbe with other interesting facilities like spas, restaurants, bars, hotels, and much more.
#4. Bakingili beach (Tsaben beach)
Located at mile 11 road, Bakingili in Limbe and it is a good and unique place with private beach access.
It has a beautiful sea view and comfortable accommodation for visitors.
Good for quiet moments and nicely located with a large scenic beach apt for swimming and a pleasant stroll.
Related: 
#5. Down beach (Limbe)


Down the beach is South of the harbour of Limbe, separated from the harbour by a small cape. It consists of various huts and traditional fishing boats on the beach.
The most pleasurable thing at this beach is the fresh fish gotten directly from the Ocean and most often grilled at the beachside or sold fresh.
The very good sea breeze and good space for site seeing.
#6. Complexe Marinette beach
It is a beach located near Kribi with a length of about 588m mostly visited in December, January, and February is known to be the warmest month in Cameroon, approximately 31-34ᵒC.
#7. Mile 6 beach (Limbe)
This beach is very beautiful and usually very quiet. Located in Limbe and is about 50-100m long.
It has the longest point break waves in Cameroon suitable for surfing and hiking.
Its very long and high waves are the most attractive benefits that visitors from Asia, Australia, and America visit experience while surfing. 
#8. Batoke beach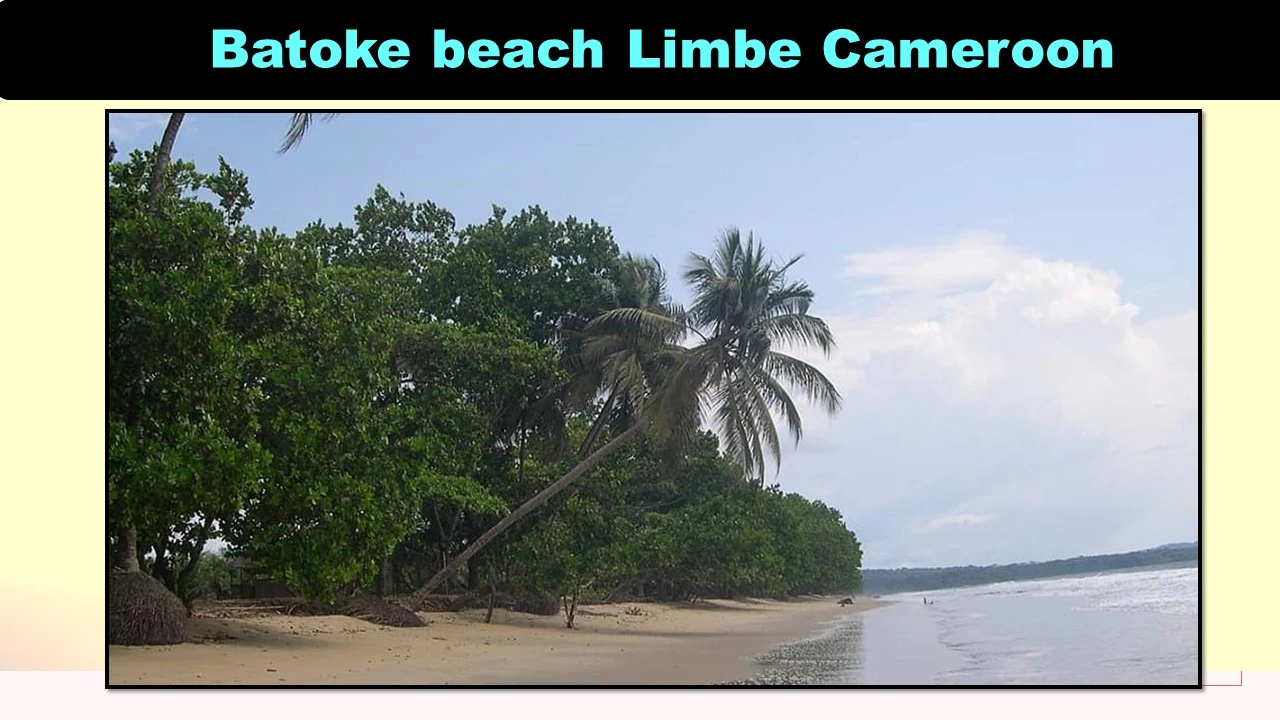 This beach is situated in a village called Batoke, found at the foot of Mt. Etinde joined Mt. Cameroon. It is found in the Southwest region, Fako division in Limbe.
It is bordered by Mt. Etinde in the North, Bakingili in the west, Atlantic coast in the south, and Limbola & Batoke in the East. It is linked to Yaounde by the national road No. 3 and about 80Km from the economic capital, Douala.
#9. Mouanko beach
Mouanko is a town and commune in the Littoral Region of Cameroon, lying on the North banks of the Sanaga River. Vast sea view which is exploited by villagers for fishing.
There exist several bridges linking small villages, green vegetation that's attractive and showing its high fertility for agriculture.
#10. Nkoteng beach


It is located at Nkolessong N1 Road, in the Centre Region of Cameroon. It is a very reserved place filled with lots of amenities and a beautiful sea view.
There are so many huts at the beachside where visitors can sit and enjoy the cool breeze and organise picnics as well as an improved African cultural display.
Conclusion
Hello Travelers, visitors, and fellow Cameroonians. Hope you find this piece of information useful.
Please share in the comment section which of these beaches you have visited or you would like to visits in the future?