How to Start A Small Business In Tanzania in 2023
PHCS
How to Start A Small Business In Tanzania in 2023
Do you want to create a small company in Tanzania? Then this is the article for you.
This is the ideal time in Tanzania's history to launch a small business. In Tanzania, starting a small business has become the new standard for school dropouts, students, and ambitious entrepreneurs.
Many businesses in Tanzania fail because the entrepreneur did not plan ahead of time or did not have a visual picture of how the company will look at each stage. As the phrase goes, "failure to plan is planning to fail."
If you want to establish a small business in Tanzania, you must first determine what the business will be like, then evaluate all of the potential dangers and how to overcome them.
So here are the 10 basic steps you need to follow if you want to create a small successful business in Tanzania.
10 Steps on how to Start a Small Business in Tanzania
Step 1: Identify a need and try to solve it
This is the first step you should do in your life before beginning a small business in Tanzania. Identify concerns or needs in your community and contribute to finding a solution.
For example, if you reside in an area where there are no provisional stores or shops, you could wish to tackle the problem by considering opening a small provisional store in your neighborhood. So, only after identifying the issues or problems within your community then you can consider starting a business in that domain.
Step 2: Conduct small research about your business idea
Now that you identify that there are few or no provisional stores in your neighborhood, and you have decided to open one.
Make sure you ask so many questions from others who are operating the same business in your area. Ask them about the challenges they faced and how to overcome them.
Ask them where they buy their goods, the price that they buy and how much they sell, what profit they generate, etc.
These questions may be hard to get answers especially if you are asking from potential competitors, but try your best to get the proper answers to these questions.
Step 3: Choice the right business name
Now that you have identified a need and have conducted research about the business you want to start in Tanzania, the next step is to come up with your business name.
You might be asking, but am starting a boil egg business or manicure business, do I need to have a name for this type of small business? The obvious answer is yes; every business needs a name. The business name helps to brand the business.
Business names help customers to always remember you, so make sure your choice is a sample and easy name that can easily be remembered by everyone.
Step 4: Develop a Business plan
With the correct business name in mind, you may go on with developing a business strategy for your company. A business plan is essential for anybody looking to establish a small business.
Business plans and business model canvas assist you in visualizing your firm from the conception stage to how you will manage it on a daily basis to how you will earn a profit for your business.
Your business plan should not be extensive; instead, it should outline how you intend to run the firm. Can you explore the potential of having a thorough business plan if you want to get finance for your firm?
Read On: 13 Profitable Small Business Ideas from Home at low cost
Step 5: Choice the right location
Another important factor to have at the back of your mind when starting a small business in Tanzania is the location where the business will operate. Many small businesses failed in Tanzania because of the wrong location. Choosing the right location can help you make a lot of profit.
Renting a place beside the road is indeed very expensive, especially if you are just starting, so it's always good to have options. At the start you can start operating the business at home, with time, you will need to locate the business in a good location that can easily be accessible to your customers.
If, you want to start a small clinic or church, do you locate your business next to a nightclub or a sawmill workshop? The honest response is 'Hell No'' Even though a clinic or church should be located on the roadside for easy access doesn't mean you should operate your business next to a noisy environment.
So in summary, choose a location that can easily access your customers and also should be in an environment that provides comfort as well.
Step 6: Register your business
Once you have generated your business name, chosen a good location, and set aside a location plan for your business, then it's crucial to register your business. Many start-ups in Tanzania failed business that has not been registered.
Registering your business helps add credibility to the services you rendered.  Get an authorization permit to operate your small business. This would save you more money or issues with the council and local authorities.
If you don't know what it takes to register your business, consult someone who has operated the same business for advice or best visits the taxation office in your area and get all the details directly.
Read: How to start a Successful Real Estate Business in Tanzania
How to Register a small business in Tanzania?
The registration process for small businesses in Tanzania is simply as presented in the following steps:
Decide if your small business would be Private companies, Public companies, Foreign branches, or Parastatal or state-owned companies.

Choose a name for your small business and draw a location plan for your small business.

Draft a memorandum of association if you intern to turn your small business into a corporation in the future.

Apply for your Tax Identification Number (TIN)

Apply for a business license

Apply for your Value Added Tax Identification Number (VAT)

Have income tax officials inspect the official site of the new company.

Have the land and town-planning officer inspect the premises and obtain his/her signature.

Apply for PAYE with the Tanzania Revenue Authority.
Step 7: Open a Bank Account for your small Business
Having a business account for their company is one of the most important considerations that many startups overlook. Have a business account that allows you to send, receive, and save money. Never combine your personal income with your corporate income on a regular basis.
Read on: 16 Profitable List Of Home Business Ideas
Step 8: Build your team
Not every firm has to be run by one person. Therefore, if running your business involves working with others, such as workers, be sure to select the ideal group of individuals who are eager to see it succeed.
Most of the time, you may assemble a strong squad from your friends or even members of your family. Teamwork makes it easier to realize objectives or achieve commercial success.
Step 9: Promote your business
No matter how tiny your company is, you will need to understand how to market it at each stage and period of its life cycle. Word-of-mouth marketing, public relations, sponsored postings, and paid advertising are all effective ways to publicize your company.
Step 10: Build a Website for your business
Businesses nowadays are evolving quickly along with the rest of the globe. By remaining online, one must disregard the first step in launching a small company in Ethiopia. Try your best to establish a presence online, regardless of the sort of business you are running today. You may connect with a broader group of visitors or clients by having an online presence.
You may start off with a social media page on Facebook, for example. Why not take advantage of this chance as it is free? For those working with products and services, this is crucial. Create a tiny, straightforward website over time to help you become more visible and present to a larger audience.
50 Small Business Ideas to start now in Tanzania
Start an event planning business

Become a Photographer

Offer language Translation services

Start a content writing services

Offer CV and Cover letter writing services

Start a perfume business

Start a travel agency

Create a course and sell it online

Start a bakery business

Start a skincare business

Start a Bridal Makeup Business

Make beads and sell

Venture into chicken poultry farming

Start Micro Money Lending Business

Start an Affiliate marketing business

Sell second products

Start a Relationship or Business Coaching Services

Start a Home Massage Services

Open a Barbershop

Tailoring, Alteration & Seamstress Services

Canopy and chair renting services

Start offering data analysis services to students

Open a hair salon

Start a manicure or pedicure service

Start a cleaning services

Start a laundry cleaning services

Start a computer repair and maintenance business

Become a web developer

Start a real estate business

Provide a business consultancy service

Start Haulage and logistics business

Start an online blog site

Open a Smoothie Bar

Painting service business

Epoxy floor decoration business

Furniture making business

Graphics, Animation, & Multimedia Design Business

Ghostwriting Services

Data Entry Services

Become a hire private home tutor

Start a tricycle transportation business

Become a graphic designer

Provide SEO services

Start a T-Shirt Printing Business

Provide Interior Designing services

Weight loss consultancy

Fruit selling business

Start Snail farming business

Start a Provision store

Start a Waste recycling business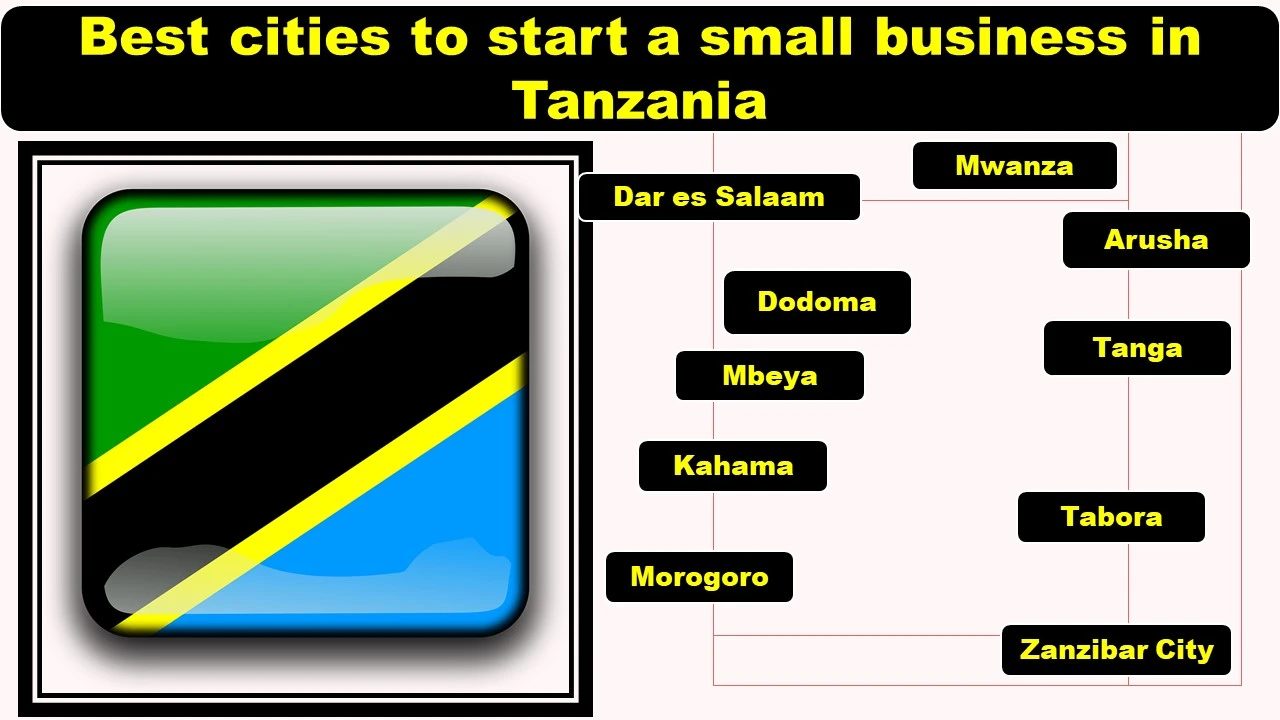 Best towns/cities to start a small business in Tanzania
Dar es Salaam

Mwanza

Arusha

Dodoma

Mbeya

Morogoro

Tanga

Kahama

Tabora

Zanzibar City
Final Conclusions
Many small businesses fail early on because the entrepreneur neglected to plan the firm before starting it. So, in order to avoid all of the potential hazards of company failure, attempt to follow the steps outlined below on how to establish a small business in Tanzania.
Learn to discover a need, perform research on that need, produce a business plan for your business, find a suitable site, register your business, establish a wonderful team, get an account set up for the business, and most importantly, learn to advertise your business on a regular basis.